Call For Presentations/Speakers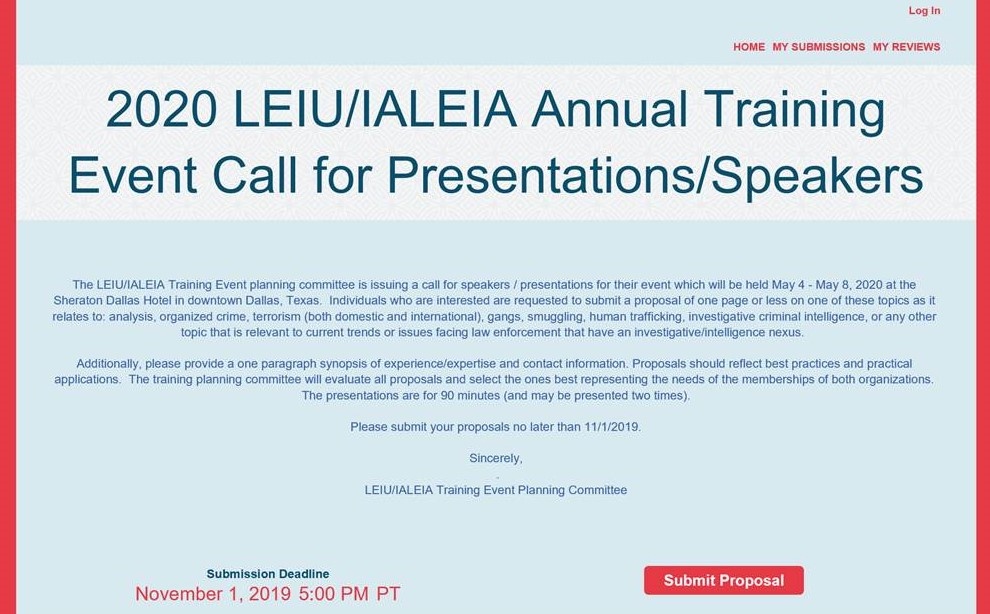 The LEIU/IALEIA Annual Training Event planning committee has issued a call for speakers / presentations for our event scheduled to take place at the Sheraton Dallas Hotel in downtown Dallas, TX, May 4 – May 8, 2020.
All presentation proposals will be submitted online through the Cvent website!
Individuals interested in submitting a presentation for consideration should use the following link:
http://www.cvent.com/c/abstracts/b0dcbd32-f634-441e-8476-bc8735c51c26.
You will be required to create a log-in. This will create an account for your proposals, so that you may edit/update at your convenience and allow us to communicate with you during the review and selection process. If you submitted a proposal last year, your login information is still valid.
Proposals should be one (1) page or less on one of these topics as it relates to: analysis, organized crime, terrorism (both domestic and international), gangs, smuggling, human trafficking, investigative criminal intelligence, or any other topic that is relevant to current trends or issues facing law enforcement that have an investigative/intelligence nexus.
Submissions should also include a one (1) paragraph synopsis of the presenter's experience/expertise along with their contact information.
Proposals should reflect best practices and practical applications.
The planning committee will evaluate all proposals and select those best representing the needs of the memberships of both organizations. The presentations should be 90 minutes in length and, if selected, may be presented twice.
Please submit your proposals no later than November 1, 2019.